Atal Bihari Vajpayee Biography, Early Life, Achievements, Quotes
Atal Bihari Vajpayee Biography, Early Life, Achievements, Quotes. Before being elected Prime Minister, he was well-known for his oratory talents and held a number of high-ranking posts in Indian politics.
His first term as India's Prime Minister lasted just 13 days. After a couple of years, he was sworn in for the second time.
His rule lasted slightly over a year this time as well. About Atal Bihari Vajpayee's third tenure as Prime Minister was his most successful, and he held the job for a total of five years.
Atal Bihari Vajpayee Biography
What was Atal Bihari Vajpayee's background? – Atal Bihari Vajpayee was a well-respected experienced politician who served as Prime Minister of India for three terms, none of which were consecutive.
Atal Bihari Vajpayee served in the Indian Parliament for over five decades, and he was the only MP to be elected from four separate states at various times: Uttar Pradesh, Madhya Pradesh, Gujarat, and Delhi.
He first entered politics during the pre-independence period, when he joined the Quit India Movement, which resulted in his arrest and incarceration.
He was one of the founder members of the former Bharatiya Jana Sangh, an Indian nationalist organization, and was a great patriot.
Atal Bihari Vajpayee was a talented poet with numerous published poems, and he had a multi-faceted personality. His affinity for Hindi is also widely known; he was the first individual to give a speech in Hindi before the United Nations General Assembly.
Atal Bihar Vajpayee Early Life
Childhood and Adolescence – Atal Bihari Vajpayee's early life, He was born in Gwalior into a middle-class family. Krishna Bihari Vajpayee, a school teacher, and poet was his father, and Krishna Devi was his mother.
He studied Hindi, English, and Sanskrit at the Saraswati Shishu Mandir and then at Victoria College, where he graduated with honors in Hindi, English, and Sanskrit.
Atal Bihari Vajpayee pursued his post-graduate studies at DAV College in Kanpur, where he received his M.A. in Political Science. He was a born patriot who fought for India's independence even as a student and published various nationalist Hindi journals.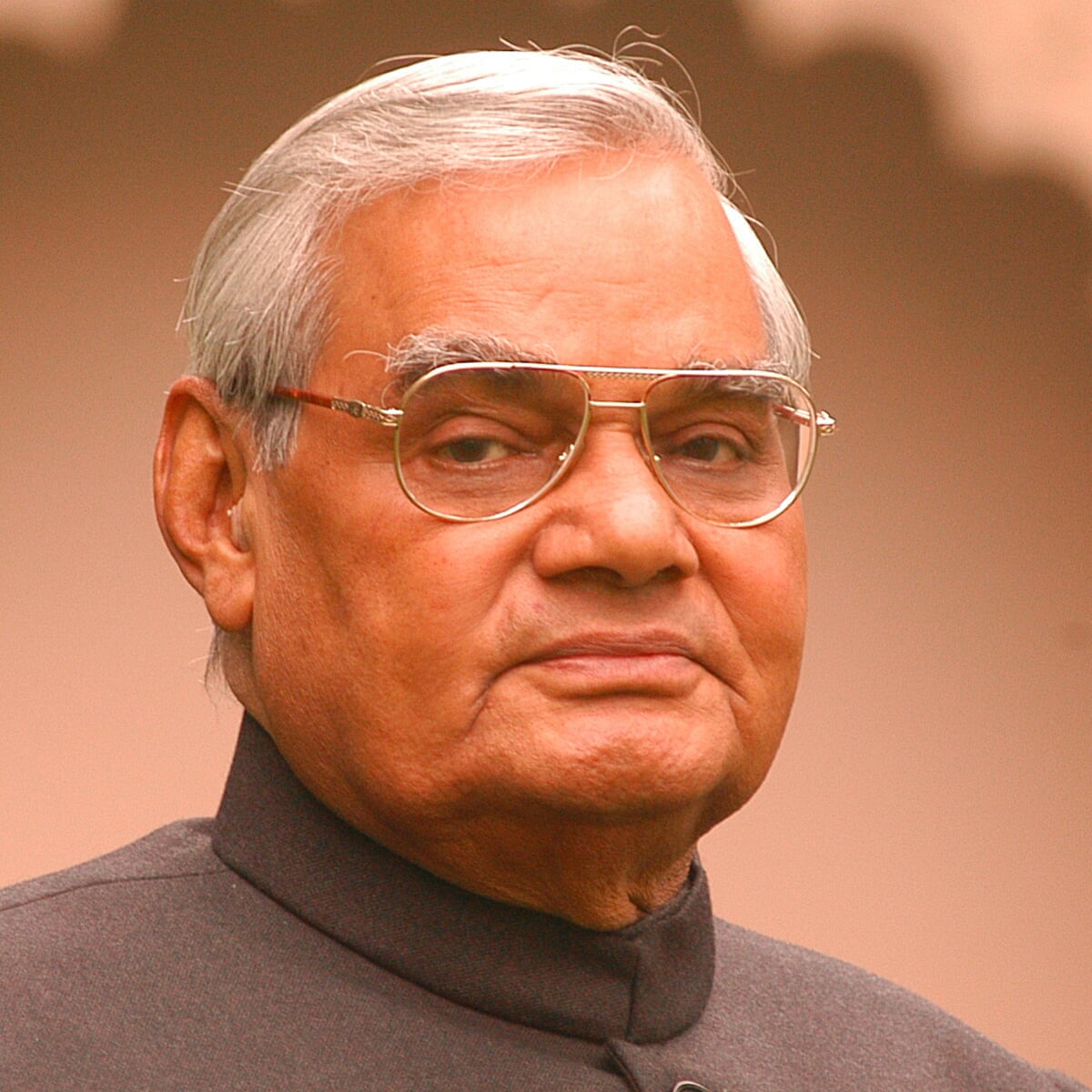 Atal Bihari Biography
Atal Bihar Vajpayee Achievements
A career in Politics – He got involved with Syama Prasad Mookerjee's Bharatiya Jana Sangh (BJS), a right-wing political group formed in 1951. He became a devoted supporter of Mookerjee and accompanied him to Kashmir in 1954 for his fast-unto-death.
In 1957, Vajpayee was first elected to the Lok Sabha from Balrampur (U.P.). He proved to be a gifted orator, delivering impressive speeches.
After Deendayal Upadhyaya's death in 1968, he was elected national president of the Jana Sangh. He worked diligently with Nanaji Deshmukh, Balraj Madhok, and Lal Krishna Advani over the following five years to establish the Jana Sangh as a powerful force in Indian politics.
The Janata Party was formed in 1977 when the BJS merged with the Bharatiya Lok Dal and the Socialist Party. Vajpayee became the Minister of External Affairs in Prime Minister Morarji Desai's administration after the Janata Party won the general elections.
Atal Bihari Vajpayee Poems
Following Morarji Desai's resignation as Prime Minister in 1979, the Janata Party was disbanded. In 1980, Vajpayee co-founded the Bharatiya Janata Party (BJP) with Lal Krishna Advani and Bhairon Singh Shekhawat and became the party's first president.
Following the 1984 elections, when the BJP was reduced to two seats, Vajpayee worked relentlessly to rebuild the party, and the BJP gained 88 seats in the 1989 parliamentary elections.
By 1991, the BJP had established itself as the main opposition party, winning 120 seats in the 1991 parliamentary elections.
In 1993, he was elected Leader of the Opposition in Parliament, and in November 1995, he was announced as the BJP's Prime Ministerial candidate during a meeting in Mumbai.
Atal Bihari Vajpayee career
In the 1996 general elections, the BJP became the single biggest party in the Lok Sabha. In May 1996, Vajpayee was sworn in as Prime Minister. He resigned after 13 days because the BJP was unable to secure a majority.
In 1998, he was re-sworn in as Prime Minister after the BJP won the election and established the National Democratic Alliance (NDA) with other major parties. This administration lasted a little over a year until new elections were called.
India conducted underground nuclear tests at Pokhran in May 1998, only a month after the government took office, during his term. These tests were viewed as a watershed moment for the country.
Between May and July 1999, India and Pakistan fought the Kargil War. The Indian Army and Air Force had regained the regions penetrated by Pakistani insurgents by the conclusion of the battle.
Vajpayee's image as a strong and capable leader of the country was solidified by his triumph in Kargil.
Atal Bihari Vajpayee Quotes
Following the victory in the Kargil War, the BJP-led NDA emerged as the biggest political coalition in the 1999 general elections. In October 1999, Vajpayee was re-elected as Prime Minister for the third time.
He implemented a number of economic and infrastructure changes, such as boosting the private sector, supporting private research and development, and privatizing some government-owned enterprises, among other things.
National Highway Development Project and Pradhan Mantri Gram Sadak Yojana were two of his significant undertakings.
In March 2000, US President Bill Clinton conducted a state visit to India. Clinton's visit to India was hailed as a watershed moment in the two countries' international trade and economic ties.
Trade unions and government workers attacked Vajpayee's privatization activities, claiming that excessive privatization was not in their best interests.
In order to enhance Indo-Pak ties, he invited Pakistani President Pervez Musharraf to India in 2001. India, on the other hand, did not do well in this endeavor.
In 2001, he established the Sarva Shiksha Abhiyan with the goal of universalizing primary education.
Terrorists trained in Pakistan assaulted the Parliament House in New Delhi in December 2001. According to the investigation, a plan was developed in Pakistan.
The possibility of a full-fledged conflict between the two countries remained large for a long time. In the wake of the incident, the Prevention of Terrorism Act of 2002 (POTA) was passed.
Several economic reforms were adopted by the Vajpayee administration in 2002-03, resulting in a record GDP growth rate of 6-7 percent. India's foreign image is also improving as a result of the significant changes that occurred in the country throughout this period.
In 2004, Vajpayee resigned as Prime Minister after Congress won the most seats in the general election.
In 2005, he declared his retirement from politics, and he did not run in the 2009 legislative elections.
Atal Bihari Vajpayee Major Projects
During his leadership, nuclear tests in 1998 unequivocally recognized India as a nuclear power, and the government was able to construct a minimum credible deterrent to stave off security threats.
Two of his favorite initiatives were the National Highways Development Project (NHDP) and the Pradhan Mantri Gram Sadak Yojana (PMGSY). The National Highway Development Project (NHDP) entails linking the four main cities of Delhi, Mumbai, Chennai, and Kolkata. PMGSY is a statewide initiative to link isolated settlements to reliable all-weather road access.
He is well-known for the economic reforms and privatization initiatives he implemented during his time as India's Prime Minister. His diplomacy and leadership throughout the Kargil War and terrorist attacks solidified his reputation as a knowledgeable and competent Indian leader.
Atal Bihari Vajpayee Achievements & Awards
In 1992, he received the Padma Vibhushan, India's second-highest civilian honour, for his outstanding contribution to public affairs.
In 1994, he received the Best Parliamentarian Award.
Also in 2014, he was awarded the Bharat Ratna, the Republic of India's highest civilian honour.
Atal Bihari Vajpayee Family Life
Vajpayee lived his whole life as a bachelor. He was extremely close to his friends and family and had adopted Namita Bhattacharya, the daughter of BN Kaul and Rajkumari Kaul.
He adored Hindi and penned a number of poetry in the language.
Atal Bihari Vajpayee has an extensive medical history. In 2001, he had knee replacement surgery. His speech was hampered by a stroke in 2009. He was mostly confined to a wheelchair in the final few years of his life and had trouble recognizing individuals.
He had dementia as well as diabetes. In the latter several years of his life, he had not attended any public events.
He was brought to the hospital on June 11, 2018, owing to a serious health condition. After a protracted illness, he died on August 16, 2018, at the All India Institute of Medical Sciences (AIIMS) in New Delhi.
Trivia
Dr. Manmohan Singh, the Prime Minister of India, dubbed him the Bhishma Pitamah of Indian politics.
His favourite vocalists were Lata Mangeshkar, Mukesh, and Mohd. Rafi.
This towering political figure was the only politician to be elected from four separate states, namely UP, MP, Gujarat, and Delhi, at various periods.
Atal Bihari Vajpayee and the Kargil War
Militants and non-uniformed Pakistani troops (many with official IDs and Pakistan Army's special weapons) had penetrated the Kashmir Valley and had taken control of border hilltops, unmanned border checkpoints, and were rapidly expanding out.
The assault was concentrated on Kargil, but it also encompassed the Batalik and Akhnoor sectors, as well as artillery engagements near the Siachen Glacier.
In response, Indian armed forces were quickly sent to Kashmir. In June 1999, the Indian military started Operation Vijay, which saw them battling hundreds of militants and troops in the face of intense artillery fire, harsh cold, snow, and dangerous terrain at a high altitude. The three-month-long Kargil War claimed the lives of around 500 Indian troops, as well as 600-4,000 Pakistani insurgents and soldiers. Pakistani insurgents and Northern Light Infantry forces were forced back by India.
Vajpayee's reputation was boosted by the victory in Kargil, and he was praised throughout the nation for his brave and powerful leadership.
On July 26, 2012, BJP President Nitin Gadkari dedicated a wax monument of Atal Bihari Vajpayee in Mumbai, which was marked as 'Kargil Vijay Diwas.' The statue will be shown at Lonavala's wax museum.
Atal Bihari Vajpayee Last Days
He had dementia as well as diabetes. In the latter several years of his life, he had not attended any public events.
He was brought to the hospital on June 11, 2018, owing to a serious health condition. After a protracted illness, he died on August 16, 2018, at the All India Institute of Medical Sciences (AIIMS) in New Delhi.